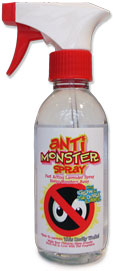 Anti Monster Spray
This super duper lavender spray can be used generously under beds, behind cupboards - literally anywhere 'nasties' might be lurking ... to ensure that mummies, daddies and children enjoy a peaceful night's sleep everywhere!!
It is widely recognised that the essential oil of lavender has a relaxing
effect and can aid restful sleep. Safe to use on skin and as a pillow spray. Avoid contact with eyes. Contains Essential Oil of Lavender, Lavender Fragrance, De-Natured Ethanol & Aqua.
£